Jet Fresh Flower Distributors is back with a special wedding edition of #FreshInspiration designed by our talented marketing director, Ryan Black.
In this #FreshInspiration, Ryan created a gorgeous arrangement that's perfect for any blushing bride, using only fresh-cut, wholesale flowers by the bunch from the Jet Fresh Cash & Carry. The Jet Fresh Cash & Carry. is available to members of the local floral trade who wish to purchase flowers by the bunch or box.
For wholesale flowers by the box or procona for wedding season, please contact our dedicated team at Sales@JetFreshFlowers.com.
The Bouquet
This wedding-inspired bouquet features a lovely assortment of pink, white and green flowers.
The natural color palette is a bridal favorite among wedding flowers, and a timeless combination for weddings to come.
Let's take a closer look at the amazing flowers and fillers in this arrangement.
This bouquet is filled with many high-end flowers and fillers that coordinate very well together.
Light Pink Tsumugi™ Garden Roses are the clear focal flowers in the arrangement, accompanied by Dutch Odile Peonies and Dutch White French Tulips.
The bouquet also contains White Lisianthus, Antique Hydrangea, Pink Wax, White Veronica, Pink and Cream Raffines Dianthus. Coco Uno Hypericum, Snow of the Mountain Euphorbia, and Italian Ruscus.
Tsumugi™ Garden Roses is a new variety from the Japanese Wabara series grown by Alexandra Farms. This stunning light pink variety has a large cup-shaped bloom with a high petal count.
From the Cash & Carry, the roses were given an extra day to hydrate before being arranged. This allowed the garden roses to continue blooming, thus requiring fewer stems in the arrangement.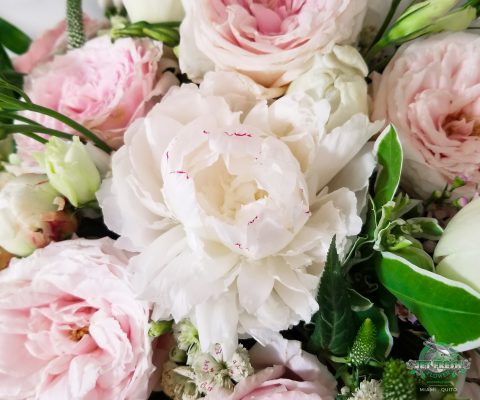 Dutch Odile Peonies
Ryan included Dutch Odile Peonies to soften this wedding-inspired bouquet. This variety has white delicate petals and hot pink flecks that pair beautifully with these light pink Tsumugi™ garden roses.
The peonies, which were starting to bloom from the Cash & Carry, were also given an extra day to hydrate and bloom in order to maximize its impact within the bouquet.
White & Green Filler Flowers
Pink Accent Filler Flowers
Jet Fresh Cash & Carry
All of the flowers in this arrangement were from the Jet Fresh Cash & Carry, which is available to members of the floral trade who wish to shop for flowers locally.
Our well-stocked cooler has a huge variety of focal and filler flowers available for your designer needs.
Contact Olga for any special requests by the bunch or box: (305) 499-9144.