Happy Farm Fresh Friday! Summer is almost over, which means we have fresh, new updates for autumn at our rose farm, Jet Fresh Flower Growers, S.A. in Cotopaxi, Ecuador.
Our farm manager, Carlos and his team have very busy this summer making great improvements to the farm, including planting brand new varieties. We're so excited to share our latest updates for the fall.
Quito Flower Shows
Next week, some of our Miami family will fly down to Ecuador to reunite with our Quito team for the flower trade shows in Quito.
This year we're attending both shows: Agriflor 2018 and Flor Ecuador 2018. We hope to see you there!
Brunch en la Finca
In between the flower trade shows, we're hosting Brunch en la Finca at Jet Fresh Flower Growers, S.A. This special tour will take visitors from Quito to our rose farm in Cotopaxi about 2 hours away. Guests will then take a special tour of our new farm, which we acquired back in March, to see our roses as well as all the upgrades we've made thus far.
Immediately following the tour will be a delicious Ecuadorian brunch featuring bottomless mimosas and beer. Each guest will also receive an exclusive Jet Fresh swag bag for attending.
The event takes place next Thursday, September 20, 2018 during the week of the flower trade shows in Quito. After the tour, we will escort guests back to the hotel/trade shows.
Coming Soon: "Sandy" Roses
We're so excited to announce that our brand-new rose variety, "Sandy" will be available this October at Jet Fresh Flower Growers, S.A.
Earlier this summer, we planted "Sandy" from the breeders, Conectiflor S.A. and JAN SPEK ROZEN. And last June we demonstrated the bud grafting on our newly eradicated land. Now we're seeing the first button growing on the farm.
"Sandy" is an elegant rose with creamy blush petals which, together, create a soft peach hue. This unique variety complements many color palettes, and stands out beautifully in floral arrangements for weddings and special events. Stay tuned for "Sandy" this October!
Recently Planted: "Finally"
We've eradicated space for a new red rose variety, "Finally" which was recently planted at the farm.
By the breeder, United Selections, "Finally" is a beautiful, bright red rose variety that also opens fully, and is a wonderful performer for holidays and events.
Finally – there's a great substitute for the red rose variety, "Freedom" available in 2019.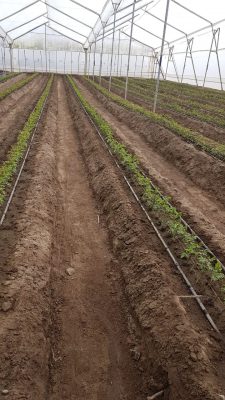 Planting Soon: Lighthouse
Coming soon to Jet Fresh Flower Growers, S.A. is the amazing yellow rose variety, "Lighthouse" also by United Selections. This successful variety's popularity is only increasing due to its rich yellow petals that open fully. "Lighthouse" will be available from our farm in 2019. Look out for Lighthouse!
A section of our greenhouse was also recently eradicated to make room for the highly-anticipated, highest-demanding rose in 2019. To order "Lighthouse" now, please contact Sales@JetFreshFlowers.com.
Greenhouse Update
Throughout the summer, we've also been busy building our twelfth greenhouse on the farm. The plastic structured is almost ready for installation, which will soon become the home for 10 different rose varieties.
JFTV: Jet Fresh Flower Growers Farm Spotlight "Cherry Oh"
Join Mike, directly from the farm as he shows off one of our hot pink rose varieties, "Cherry Oh." This lovely variety has such a great color and petal count that's worth test-driving from the farm and Jet Fresh Flower Distributors.
Fall Mix Roses
Recently announced, Jet Fresh Flower Growers, S.A. has wholesale Fall Mix Roses available farm-direct, and from Jet Fresh Flower Distributors in Miami.
These assortments have beautiful warm tones that are perfect for the season, and can be arranged with a wide arrangement of color palettes for numerous occasions.
Contact us at Sales@JetFreshFlowers.com for information.