We're getting into the holiday spirit at Jet Fresh Flower Distributors with amazing fresh products for the holiday season.
Available throughout the 2018 holiday season, we have a great supply of Holiday Xmas greens, wreaths and more to get you ready for the happiest time of the year.
Holiday Xmas Wreaths
Jet Fresh Flower Distributors has wreaths in various sizes and styles.
Not only do we have traditional rounds wreaths in 16 and 24 inch sizes, but we also have wreaths in the shapes of candy canes and crosses as well.
Our wreaths also come in plain and mixed varieties for your unique holiday floral needs. You really can't go wrong with either variety.
Explore the many wreath options available to order from Jet Fresh Flower Distributors, including this amazing 70 inch wreath that Jesselynn is holding.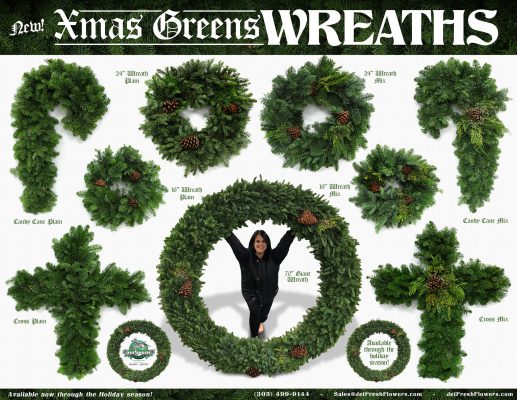 Round Wreaths
Cross Wreaths
Candy Cane Wreaths
25 ft Cedar Garland
Cedar is such a beautiful foliage for the holidays. It looks great at any holiday event and can be used to decorate a mantles, tabletops, staircases and more. Ask about our 25 ft. cedar garlands today.
Xmas Greens
Jet Fresh Flower Distributors is your source for various Xmas greens this holiday season. Many of these varieties are available in solid cases as well as individual boxes for your holiday floral needs including fir and cedar.
Take a look at some of the Xmas greens available to order from Jet Fresh Flower Distributors in Miami, Fla.
Xmas Cones
Pine cones are a fun addition for holiday flower decor. Not only do they look great on Christmas trees and wreaths, but they make fun, festive bouquet fillers as well.
Jet Fresh Flower Distributors has various pine cones available to order for wholesale and events. Each variety ranges in sizes and color. Ask your sales rep about all pine cone options available to order for the season.
How To Order
Jet Fresh Flower Distributors has a wide variety of greenery and foliage available year-round, along with our new Xmas greens.
From eucalyptus to dusty miller, we have a huge range of popular greenery and fillers in various shades and textures for your wholesale and event flower needs.
Contact Jet Fresh Flower Distributors to learn about all the options available to order today: Sales@JetFreshFlowers.com
JFTV: 2017 Holiday Office Video
Let's enjoy a flashback from our JFTV: 2017 Holiday Office Video: "It's the most wonderful time of the year."