Jet Fresh Flower Distributors is kicking off the new year with a brand new truck wrap, designed by our talented marketing director, Ryan Black.
The third custom truck wrap designed by Ryan has a psychedelic theme inspired by American artist Peter Max, a personal favorite of Mike Black. Ryan designed a custom truck wrap combining elements of 1960s pop art with his own fresh interpretation to create an exciting and vibrant mobile that will be seen driving across South Florida.
New Truck Design
Each side of the refrigerated truck is designed differently, creating one cohesive design all-around. The artwork is a beautiful rainbow of colors that's filled with 1960s imagery, spreading the message of peace, love and flowers, of course.
It captures the Black family's native New York roots with the Statue of Liberty; while also celebrating our Miami home with flamingos and palm trees.
Truck Wrap Video
Check out the truck wrap in-action from our parking lot. #nices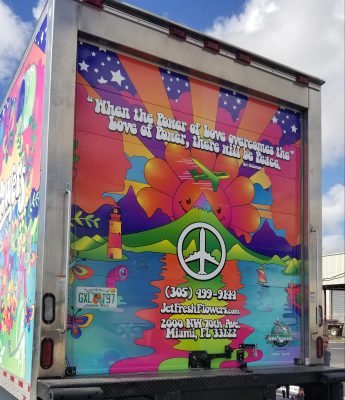 On the back of the truck, Ryan tied in the message of peace and love beautifully with an insightful quote by Indian spiritual leader, Sri Chinmoy: "When the power of love overcomes the love of power, there will be peace."
A similar quote has also been made famous by musician Jimi Hendrix.
Jet Fresh Flower's Refrigerated VEHICLES
Jet Fresh Flower Distributors has two additional refrigerated vehicles which Ryan has designed in different style so that no two are alike.
His previous design was on a new refrigerated van which received the floral graffiti treatment. This graphic showed his artistic side comparing flowers to paint splashing on a canvas.
Our refrigerated box van is where Ryan designed his first truck wrap a few years ago. This truck focused on close-up high-resolution images of our fresh-cut flowers available at the Jet.
Ryan wanted people to get a real feel of the colors and textures of different flowers, and to capture them on a scale that's larger than life.
STAY TUNED
Coming soon in 2019 is another fresh truck wrap design that Ryan will be making. Stay tuned to see what he will do next, and look out for our trucks driving around South Florida.