Each year the Society of American Florists hosts an Outstanding Varieties Competition during their Annual Convention showcasing the amazing flowers available for florists. We proudly submitted varieties from our farm, Jet Fresh Flower Growers in Ecuador where we won four ribbons for our new varieties.
This is the second year we've submitted roses from our farm to compete since becoming rose growers in 2018. As a young farm, we're very proud to compete for recognition in the company of prestigious flower farms around the world.
Casey had the pleasure of attending the convention where he saw some of the varieties we submitted as well as won from our farm. Our new Pomarosa variety earned a blue ribbon. And we earned red ribbons for Lighthouse, Sandy and HOTSPOT.
JFTV: JFFG PLACES AT 2019 SAF OVC
THE WINNERS
The Outstanding Varieties Competition has different floral categories which allow varieties a chance to shine in front of florists who may have never worked with these varieties before.
Each category has a top Best in Show award with room for only one winner; followed by blue ribbon winners and the red ribbon runner-ups. There is no limit to how many varieties one can submit; however, not every submission receives ribbons.
This year we submitted new varieties available at our farm. Pomarosa won a blue ribbon; and our red ribbon winners are Lighthouse, Sandy and HOTSPOT.
Pomarosa
Our new peachy-blush favorite, Pomarosa won a blue ribbon in the category of roses. — the highest award under Best in Show, where other amazing rose varieties were also awarded also won in this selective competition.
Pomarosa is one of our newest rose varieties available at our farm in Cotopaxi, Ecuador, Pomarosa won for its impressive head size and versatility for weddings and events.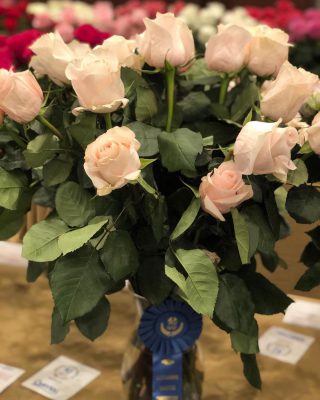 Lighthouse
Our most demanded yellow rose, Lighthouse proudly won a red ribbon this year. This golden yellow variety from the breeder, United Selections, opens fully revealing vibrant petals that ruffle as they bloom.
Sandy
Our new Sandy roses have also won a red ribbon this year. This variety is gaining a lot of attention as a dusty-cream roses with a soft hint of blush; comparable to the popular "Sahara" and "Quicksand" roses.
Sandy is wonderful variety for weddings and events bred by Jan Spek Rozen and Conectiflor, S.A.
HOTSPOT
Last but certainly not least, our new HOTSPOT roses also earned a red ribbon at SAF's 2019 Outstanding Varieties Competition. This hot pink rose is another one of our new varieties growing at Jet Fresh Flower Growers.
HOTSPOT is an incredible opener revealing spiraled petals that capture your attention and put you in a daze, with no confusion of its beauty.
HOTSPOT is proudly bred by NIRP International.
2018 SAF OVC WINNERS
These varieties are joining our winner's from last year which we submitted less than six months from becoming rose growers. Our Milva won a blue ribbon, and our Avant Garde and Encanto won red.
Full List 2019 Outstanding Varieties Competition Winners