We're back with another floral #FreshInspiration by Olga Ramirez AIFD, CFD featuring Barbatus Dianthus as well as other fresh-cut flowers from Jet Fresh Flower Distributors in Miami, Fla.
Last week, we introduced our new Barbatus Dianthus from Colombia in our new product spotlight and on JFTV. These flowers are so bright and colorful with plenty of texture that our resident floral designer and Cash and Carry manager, Olga designed a fresh arrangement incorporating Barbatus Dianthus.
In this arrangement, she used two different varieties of Barbatus Dianthus: "New Castle" and "Aston Villa."
Barbatus Dianthus
Olga used two different varieties of Barbatus Dianthus in this arrangement: the pink and white bi-color variety "New Castle" and the red variety "Aston Villa."
These flowers will continue blooming as they hydrate revealing lovely clusters of flat-top flowers. Colombian Barbatus Dianthus are available in 100-stem cases, and packed in either assorted or solid varieties.
See the rest of the Barbatus Dianthus varieties available to order at Jet Fresh Flower Distributors on our blog.
Along with Barbatus Dianthus, there's a wide variety of focal and filler flowers in this bouquet which are all available from the cash and carry flower market at Jet Fresh Flower Distributors.
Roses
Light colored roses filled out this beautiful flower arrangement contributing to its grandeur and elegance. Using high-end wedding and event roses, Olga incorporated altogether Quicksand Roses, Playa Blanca Roses and Peach Sahara Sensation Spray Roses.
Pink Accents
There are plenty of fun, pink flower accents in this bouquet which are well-balanced coordinating perfectly with the Barbatus Dianthus. Dutch Hot Pink "Rodeo" Hydrangea add hot pink sections throughout the arrangement, while Hot Pink Gomphrena and Burgundy Astrantia also contribute to the pink color accent with small, unique blooms that are full of texture and personality, meshing with the roses and dianthus.
Fillers and Greenery
Not only are there pink flower fillers in this arrangement, but there's also coordinating white fillers to complement the white roses and "New Castle" Barbatus Dianthus.
Olga included "Vanilla Scoop" Scabiosa which have a rounded shape like the Hot Pink Gomphrena, and works well as a coordinating filler flower. Italian Variegated Pittosporum are also used in this arrangement for its mixture of green and white bi-color on the leaves. The pittosporum has a nice shade of green that softens the arrangement and plays well with the eucalyptus.
The bouquet was completed with various fresh greens from Jet Fresh Flower Distributors including Silver Dollar Eucalyptus, Seeded Eucalyptus and Olive Branches. It's great to see different types of greens mixed together in one arrangement to better spot the differences in color and shape.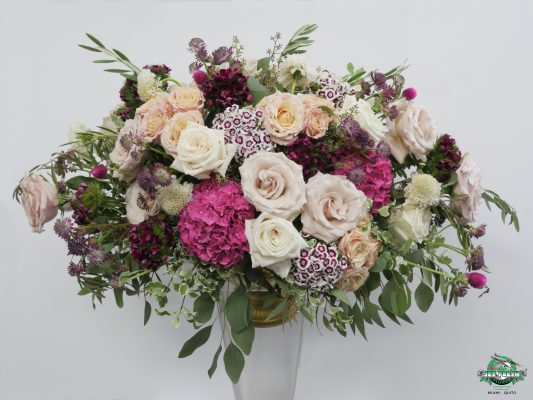 JFTV: New Product – Colombian Barbatus Dianthus
How to Order
To order any of these fresh-cut flowers and more, including preserved flowers, please contact Sales@JetFreshFlowers.com or (305) 499-9144.
For more additional visit here.