Every year, Florists' Review presents the "Thirty-Five Under 35;" a group of young professionals who have been nominated by members of the floral trade for being the "best and brightest rising stars in the floral industry."
Jet Fresh Flower Distributors is proud to announce that our marketing director, Ryan Black has made the list as one of the 35 standouts in 2018 who's bringing "new energy and vividness to the industry."
The "Thirty-Five Under 35" is a well-rounded group of young professionals in the floral industry that include floral designers, event planners, floral marketers and growers from different countries.
The article can be found in the August 2018 issue of Florists' Review.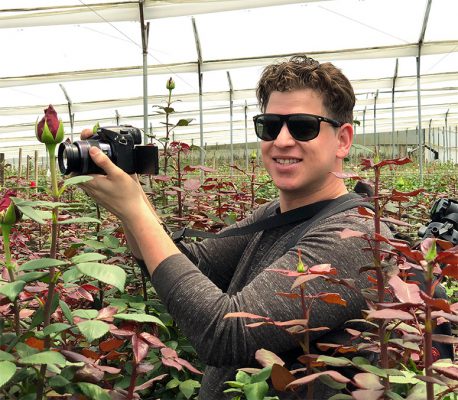 Ryan Black is a self-proclaimed, modern-day renaissance man who has been the marketing director at Jet Fresh Flower Distributors for over 6 years.
He has degrees in Art/Design, and Multimedia/Communications from Florida Atlantic University which have given him the ability to produce cutting-edge designs and content for Jet Fresh Flower Distributors as well as our partner farms; including Roses With Altitude and our rose farm, Jet Fresh Flower Growers, S.A.
Ryan combines his floral experience with his passion for art and design to push the industry to new heights; using modern marketing tools including graphic design, videography, photography and app development with his game, Name That Rose.
The creative ideas which Ryan has brought to life have helped Jet Fresh Flower Distributors become a household name and a marketing tour de force. Ryan creates interesting graphics and entertaining videos that have been well-received by industry members including wholesalers and growers, and his trade show displays have been praised by renowned floral designers including Bill Schaffer, AIFD, AAF, PFCI — who also nominated Ryan for this achievement.
Ryan Black (4th generation) has been working in the flower industry with his family his entire life. He has seen flowers in many different stages from wholesale to retail and even has experience working for a very successful event planner while he was in college. Ryan is so comfortable being around flowers that he can quickly whip up an arrangement, as well as build and decorate an entire floral display, such as a flower wall — without hesitation.
Ryan was also nominated by our sales captain, Fernando Ortega for his incredible efforts in taking the wholesale flower industry to a new level. "I nominated Ryan because, behind-the-scenes, he's always working and coming up with new creative marketing ideas to help the company stand out," said Fernando.
"It takes tons of hours of work; he's working all day long and continues to work at home during the night. Not many people know this or understand how many man hours and creativity sessions it takes to come up with the ideas he does."
Ryan's creativity really shines in our personal marketing. Our colorful refrigerated vans can be seen driving around South Florida, each with their own unique design. And the company merchandise Ryan designs has been sought-after and worn by members of the floral trade worldwide.
"The best part [is] he makes it look easy! He's the hardest working marketing director I know and he deserves all the recognition in the world," said Fernando.
Congratulations, Ryan!