The November 2018 issue of Superforal magazine contains a special business segment titled: "How I Did It."
This article by gives unique insight into the minds of eight floral industry leaders who have achieved success in the floral industry and how they plan to remain successful. One of the leaders featured in this segment is our innovative president, Mike Black.
About the Article
The "How I Did It" article, written by Cindy Hanauer asked several leaders in the floral industry questions from their history in the flower business as well as their opinions on personality traits and principles needed to be successful in this industry.
Each luminary gave his or her unique insight into their leadership style, their accomplishments in this business and how they plan to remain successful for the future.
See how these industry leaders got their feet in the door and where they are today in Superfloral's November 2018 issue.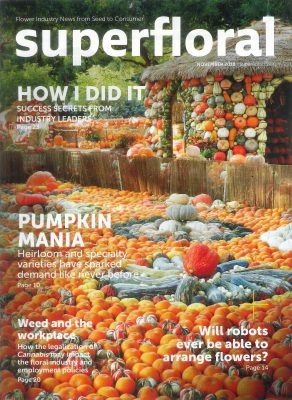 About Mike
Mike was selected as one of the luminaries in this issue for his success in the floral industry with his companies Jet Fresh Flower Distributors and Jet Fresh Flower Growers, S.A.
One of his biggest accomplishments is that he's combined all of his work experiences under one roof. "We are now a vertically integrated floral company combining importing, distributing, wholesaling, bouquet-making and now rose growing under one company."
Mike has worked in the flower industry his entire life, as the 3rd generation in his family. He began his career at age 16 working at New York City's 28th Street flower market where he quickly developed a passion for the flower business. "I loved meeting all the diverse customers and working in a fast-paced industry that's exciting and always different, " said Mike.
Don't Have the Issue?
If you don't have the issue, well you're in luck! Check out the full interview featuring all eight industry leaders here.