Published in FloraCulture International
Written by William Armellini
When I was tasked with writing an article about a Miami based import company I started to think of all the great companies I know of that have an interesting story to tell. There are many, but one company stuck out to me mostly because they have entered a well-established business and have succeeded in only 10 years.
Established in 2008 by Mike Black, Jet Fresh Flower Distributors was built with the intention of forming long-lasting relationships that will help the industry grow. Black has worked in the flower industry his entire life beginning his career in New York City's 28th Street Flower Market. Mike is a 3rd generation floral veteran with experience in many different areas including wholesale, bouquets, mass market and now growing.
HYBRID COMPANY
Jet Fresh describes itself as "a family-owned and operated hybrid company, a combination of a regional floral wholesaler, importer, distributor and grower all from one source."
In a business filled with companies big and small what makes a new competitor stick out? One big advantage was the marketing that Jet Fresh has employed to make it different and recognized. Their online presence is funny, in your face and never ending. Another significant asset is family. The Black family is well represented in all facets of the business at Jet Fresh and beyond. But clearly Black's instincts, and vast knowledge of the industry have been the most valuable company asset.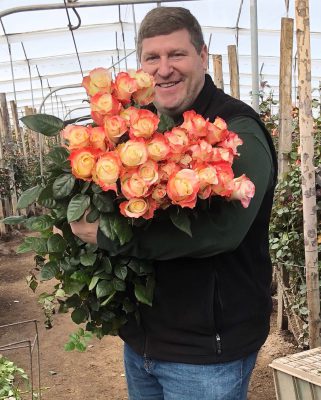 VERTICAL INTEGRATION
Jet Fresh recently added an Ecuadorian farm to its portfolio and this has added a level of vertical integration that is becoming more common in floral.
Jet Fresh sources its flowers mostly from Central and South America with a small percentage coming from Europe and the US. Mexico has potential but the logistics from there are still a challenge.
There are many business interrupters that have entered the business over the last 10 years as well. Direct sales by growers to wholesalers and internet sales to retailers and consumers are chipping away at sales at all levels.
Jet Fresh has embraced this technology by using Komet Sales online platform which has; "become a real staple for us linking the grower, the importer and the retailer online."
NEW BUILDING
Miami is the floral hub for the Americas as Amsterdam is to all of Europe. Jet Fresh has also just moved into a new building and now has its own facility located in the heart of the floral district adjacent to Miami International Airport.
Private US companies do not like to share their sales figures or turnover so I asked Jet Fresh about units sales and they replied "More than some, and a little less than most. With our intermediate size, we're a very well-integrated, medium-grade supplier which is able to supply and fulfill a huge amount of flowers."
Finally, the best quote of the interview Black said, "Our best customer is someone who had a bad experience from our other competitors. Our door is always opened for our diverse client opportunities."
Originally published in FloraCulture International