Renowned floral design team, Schaffer Designs successfully united People & Flowers with an incredible exhibit that won the gold medal at the 2019 PHS Philadelphia Flower Show.
Schaffers' design concept, "Happy Together" explores the relationship between human beings and flowers. "Throughout history people have used flowers for celebrating, giving and remembering. From a simple bouquet to a modern, floral installation; this illuminated story shows how the power of flowers makes people happy, according to Schaffer Designs. 'Happy Together' unites the dedication and passion of flower growers and the creative talents of floral designers from around-the-world sharing their joy with the visitors of The Philadelphia Flower Show, reminding us that flowers bring people together."
The 2019 PHS Philadelphia Flower Show, "Flower Power," pays tribute to the enormous impact of flowers on our lives from March 2 to 10, 2019, at the Pennsylvania Convention Center. The annual Flower Show is a top destination and "must experience" horticultural event that attracts over 250,000 visitors annually to the Pennsylvania Convention Center, a showcase of excellence that dates back to 1829. (Philadelphia Flower Show)
Schaffer Designs, led by husband and wife team, Bill Schaffer AIFD, AAF, PFCI and Kristine Kratt AIFD, PFCI, is widely known for creating uniquely elaborate installations with flowers. This duo is not afraid to push boundaries and incorporate a wide range of raw materials in a compelling manner that makes flowers come to life. Each year they exhibit at the Philadelphia Flower Show earning top rewards for their incredible designs.
This year, their design team grew internationally with 12 award-winning designers on board from Belgium, Estonia, Holland, Ireland, Norway, Russia, Spain, and Sweden; along with about 20 floral designers from the United States. Our resident floral designer and cash and carry manager, Olga Ramirez, AIFD, CFD was so happy to be invited back to Philadelphia to assist Schaffer Designs with an exciting, new concept. 
"This has been one of the best [design] experiences for me." said Ramirez. "This show is truly one of the best. I learned new techniques, new concepts in floral design and everything from the hands of the best, Bill and Kris."
For an entire week the Schaffer Designs team built an over-the-top floral installation that received the gold medal. Their unifying message, joining flowers with people, was successfully portrayed within this colorful rainbow wheel of flowers using each color-coded section to display flowers in an amazing way.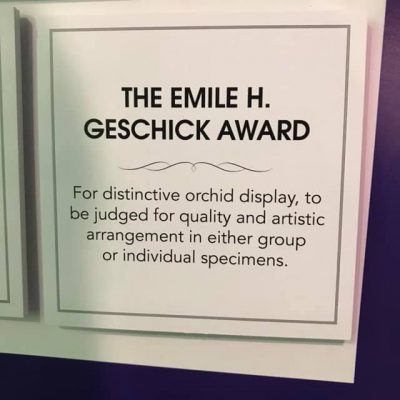 Emile H. Geschick Award
Along with winning the PHS gold medal this for their creative and colorful exhibit, Schaffer Designs also won The Emile H. Geschick Award for their impressive and distinctive display of orchids.
A wide variety of flowers were used in this installation including fresh-cut flowers donated by Jet Fresh Flower Distributors.  We proudly donated "Erika" Astilbe, Green "Goddess" Calla Lilies, Green "Baltic Glacier Mint Ice" Cymbidiums, Forsythia, Euphorbia, White "Molly" Helleborus Yellow Pin Cushion Protea, Pink King Protea, White Tulips, Viburnum and Red "Piano" Garden Roses. For information about any of these varieties and more, please contact Sales@JetFreshFlowers.com.