Jet Fresh Flower Distributors is now the proud Exclusive Florida Distributor of Rose Amor Preserved Flowers located in Miami.
Preserved flowers have been a growing trend in the floral industry worldwide, especially preserved roses, supplementing floral designers with long-lasting flowers to create arrangements that don't require any water. Rose Amor has been one of the leading brands of preserved flowers available at Jet Fresh Flower Distributors that's taken the industry by storm. Known for their consistent quality and performance, we're proud to be the leading Rose Amor supplier in the Florida offering preserved flowers to wholesalers, event planners, florists and more nationwide, in Canada and the Caribbean. 
These real Ecuadorian-grown flowers are cut and carefully preserved using a non-toxic, proprietary chemical process that maintains the flower's natural appearance for at least one year or more. The color choices from Rose Amor are truly endless and feature a wide range of shades and textures specific to your floral needs.
At Jet Fresh Flower Distributors customers can create their own master cases and order a variety of custom preserved flowers including roses, garden roses, rose stems, hydrangeas and sunflowers. Rose Amor not only has a great line of natural-looking roses, but they also have gorgeous multi-color, metallic and glitter finishes as well, giving floral designers more ways to showcase their creativity and offering unique floral products to their clients. 
Looking for smaller quantities, our office in Miami also supplies a great variety of Rose Amor preserved flowers available for individual purchase directly from our inventory.
Rose Amor's Preserved Roses are also available in ready-to-use gift and display boxes. Please refer to our latest Preserved Flower Brochure to learn about Rose Amor preserved flowers available to order from Jet Fresh Flower Distributors.
New! Preserved Sunflowers
New for Spring, Jet Fresh Flower Distributors is now offering Rose Amor Preserved Sunflowers.
These preserved flowers are sold in single packs and feature a small stem for designing.
Don't wait, order Rose Amor preserved flowers now for Mother's day! Contact your Jet Fresh sales rep today for pricing and information at (305) 499-9144 and Sales@JetFreshFlowers.com.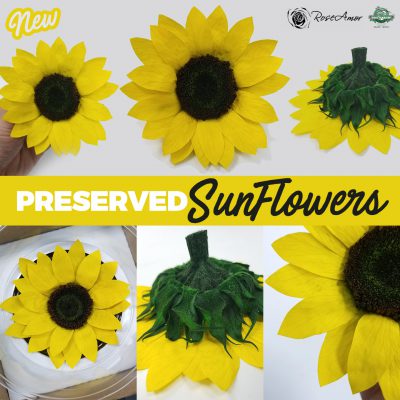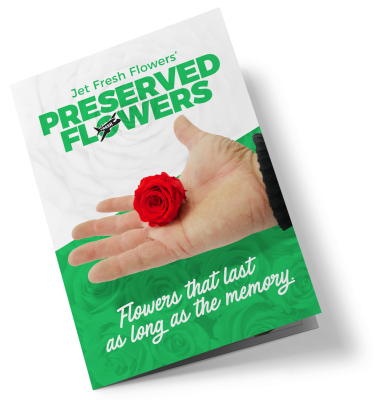 2019 Preserved Flowers Brochure
Our fresh, new 2019 Preserved Flowers brochure is now available to download. See all the new preserved flowers available to order from Jet Fresh Flower Distributors proudly distributing to the U.S., Canada and the Caribbean.
Download
Preserved Rose Inspiration