Jet Fresh is back with a fresh how-to video tutorial transforming Ava/Ines-sized preserved roses into larger, fuller blooms.
Designers can now customize the aperture, or size of their preserved roses with this simple video tutorial using Ava and Ines preserved roses from Vermeille by PRESH Tech, S.A.S. in Colombia.
The way these lovely spray preserved roses are made, they have the option to customize their bloom, making them even more versatile as a long-lasting floral alternative.
Avas are the smallest-sized preserved roses from Vermeille; whereas, the Ines-sized preserved roses are a little bigger.
JFTV: Fresh How-To Transforming Ava/Ines Preserved Roses
In this episode of #JFTV, we transformed ivory Ines-sized Preserved Roses from Vermeille using only a hot glue gun and a thin utensil to separate the petals.
How-To Step by Step
Using a single rose head and a simple base, such as this poker chip, we're going to increase the size of this preserved rose. Get your hot glue gun ready!
Step 1
Remove the stamen. You do this by holding the rose firmly with one hand, having a secure grip on the petals as a whole; while the other hand is firmly holding the stem from the base of the rose, gently pulling them apart.
Step 2
Hot glue preserved rose to a new base or support. (You won't be able to detach the rose again).
Maintain a firm yet gentle hold on the rose petals now that nothing is holding them together, and hot glue the base of the rose onto another surface to transform.
Apply enough hot glue that will support the base of the rose and not let the petals fall apart.
Step 3
Spread the rose petals to increase the aperture or size of the bloom. Take advantage of the wet hot glue and begin opening your rose before it fully dries.
Using a small, clean utensil, carefully separate the petals, spreading them apart to look more bloomed. Continue separating he petals in a spiraled order until desired shape and aperture is reached. Allow hot glue to dry.
Jet Fresh Flower Distributors in Miami proudly supplies preserved roses from Vermeille in a variety of sizes and colors that feel very natural to floral designers.
These real roses have been carefully preserved to extend their longitivtiy and use for at least one year or longer. Preserved Roses from Vermeille are available in a wide range of sizes and colors that can be used for special events, decor, gifts and more.
Vermeille preserved flowers are available from Miami to the U.S., Canada and the Caribbean.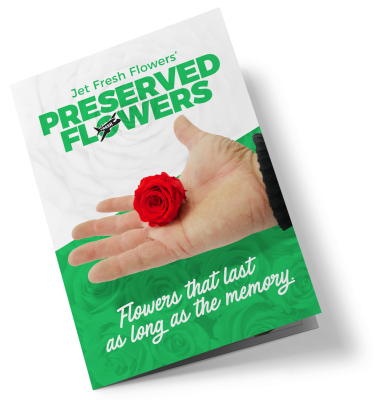 How To Order
Order Vermeille preserved flowers directly from our inventory, or place custom bulk orders from the farm.
Browse through our latest brochure for colors and packing sizes.
Contact our Preserved Sales Specialist, Ellie "Bee" for pricing and shipping information at Sales@JetFreshFlowers.com.
View