The Jet Fresh Greens poster is even bigger and badder than before!
Our fresh update features over twice the amount of fresh-cut greens as before, and is the perfect buying guide. Scroll to view our new digital poster.
Jet Fresh proudly supplies an unparalleled range fresh-cut greenery for wholesale, weddings and events. We carry an amazing amount of palms, ferns, leaves and more that make your greenery buying options truly endless.
Searching for trendy bleached items as well, Jet Fresh also supplies dried and preserved palms, pampas grass, amaranthus and much more for those last-lasting arrangements that require no water.
What's hot?
Painted and bleached greenery trends aren't going anywhere.
Jet Fresh is your source for color-enhanced greenery available for custom order. From painted eucalyptus and Plumosa ferns to tropicals such as these coconut palm leaves, designers are constantly looking for trendy statement pieces that push boundaries and leave the industry inspired.
Jet Fresh also carries bleached and preserved foliage that are becoming increasingly popular including Ghost Fern, Ruscus, Stipa, Bloom Broom and more.
Jet Fresh Greens POster
Here's the moment you've been waiting: click to view our new digital greens poster.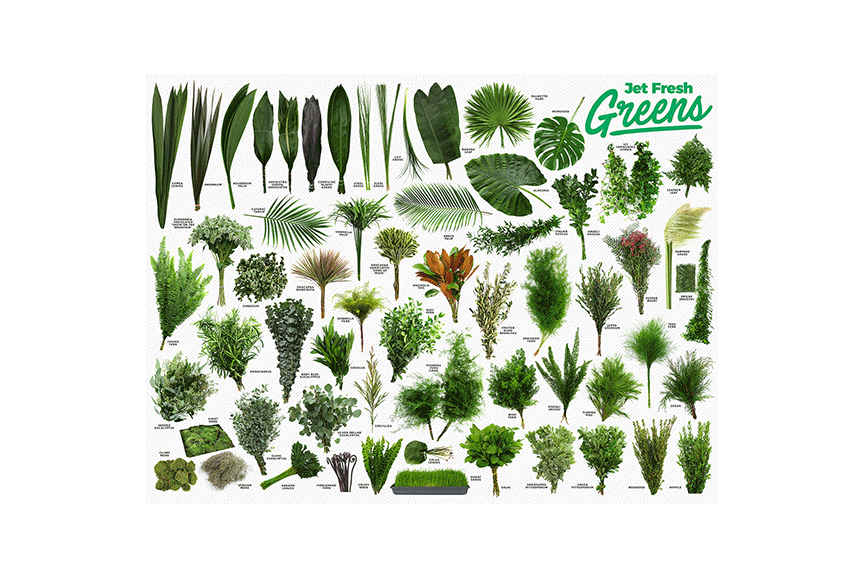 How To Order
Explore all the amazing greenery options available to order from Jet Fresh Flower Distributors in Miami.
Our cash and carry, located inside our warehouse is a wonderful source for fresh-cut greenery by the box or box.
To learn more, please contact our sales team at Sales@JetFreshFlowers.com and (305) 499-9144.