The David Tutera Experience 2023 welcomed event professionals to the Ritz Carlton in Grand Cayman. The annual gathering is crafted to unite event planners and inspire the industry. Over a span of three days, the David Tutera Experience provided immersive educational sessions and activities that tackle industry best practices and challenges. Raining Roses Productions designed and adorned every event with flowers sponsored by Jet Fresh Flower Distributors. Logistics and design details were provided by Celebrations Weddings. Here are some images from the event courtesy of Bryan Cubas Photography.
Celebrating the Island
Kicking off the event, guests were welcomed to the stunning Cayman Islands. A beachside reception celebrated the island's vibrant culture and natural beauty. The welcome party was held at the award winning, Seven Mile Beach. The flowers mirrored the warm tones of sun-kissed sands, featuring Jet Fresh Flower Growers rose varieties such as Peachy Fresh. Enchanting pampas grass, vibrant yellow pin cushion protea, and lush Monstera leaves added to the stunning florals. To conclude the evening was perfectly complemented by the musical beats of DJ Valentina creating an ambiance that reflected the tropical paradise.
Pretty In Pink
The second night unveiled the "Pretty in Pink" theme, where an intimate dinner setup took center stage. With a stage positioned in the courtyard and tables forming an impressive X, pink stage lights illuminated the floral-printed linens. Silver globe and white rectangular vases graced the tables, brimming with a delightful array of pink, blush, and cream blooms. Among the featured floral varieties were the captivating rose Full Monty. Hot Pink Nerine was accompanied by a medley of astilbe and Pink champion campanula. The evening reached its climax with a breathtaking performance by the exceptionally talented Joy T Barnum.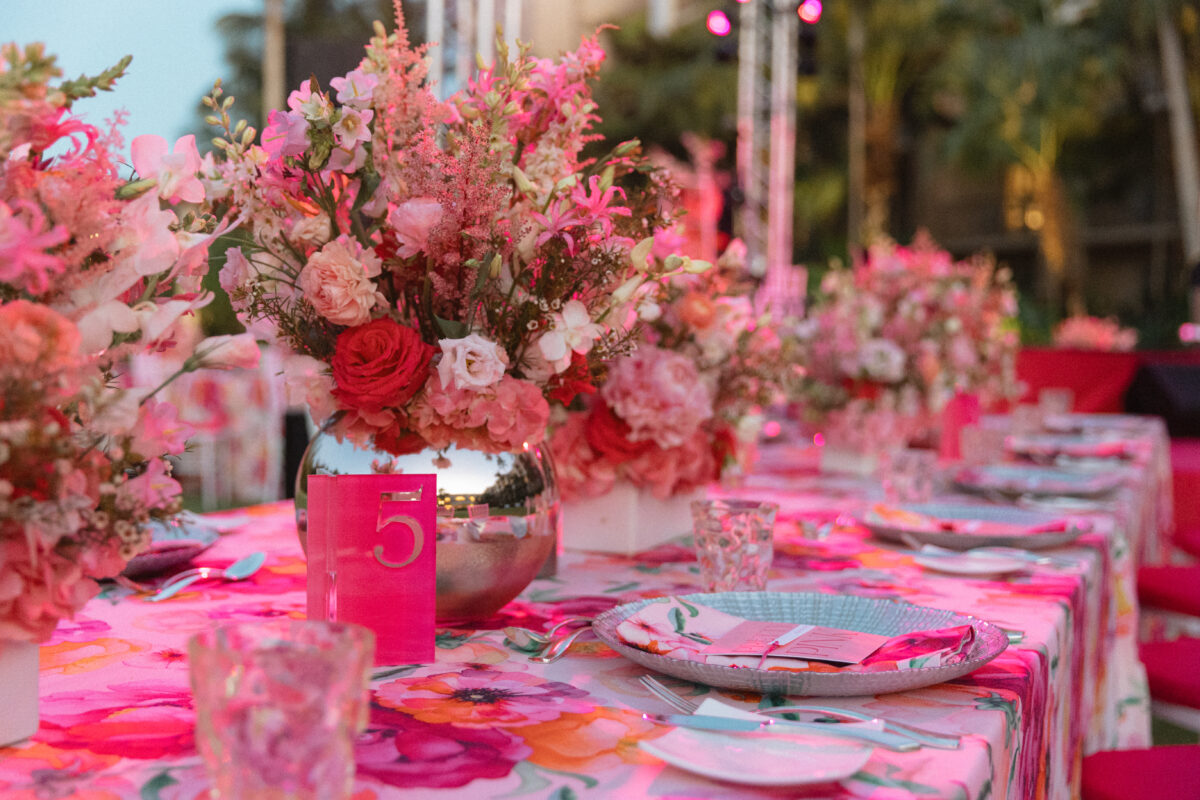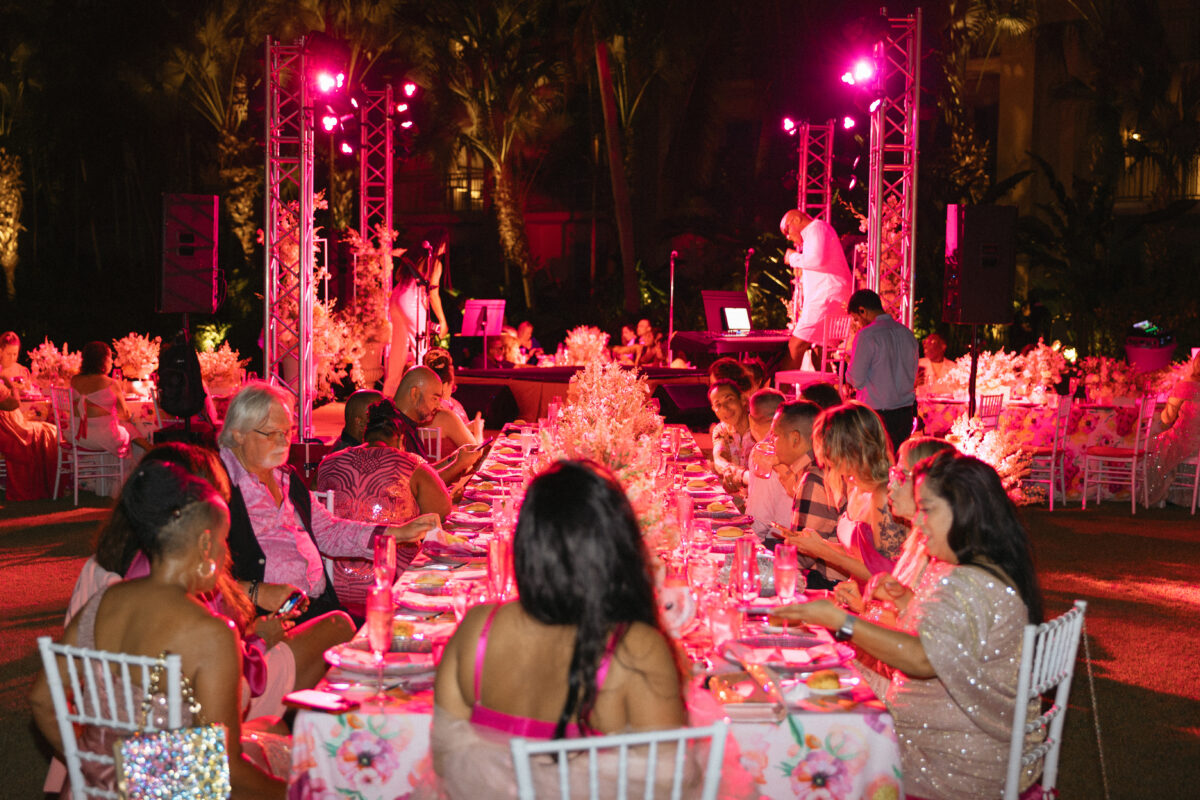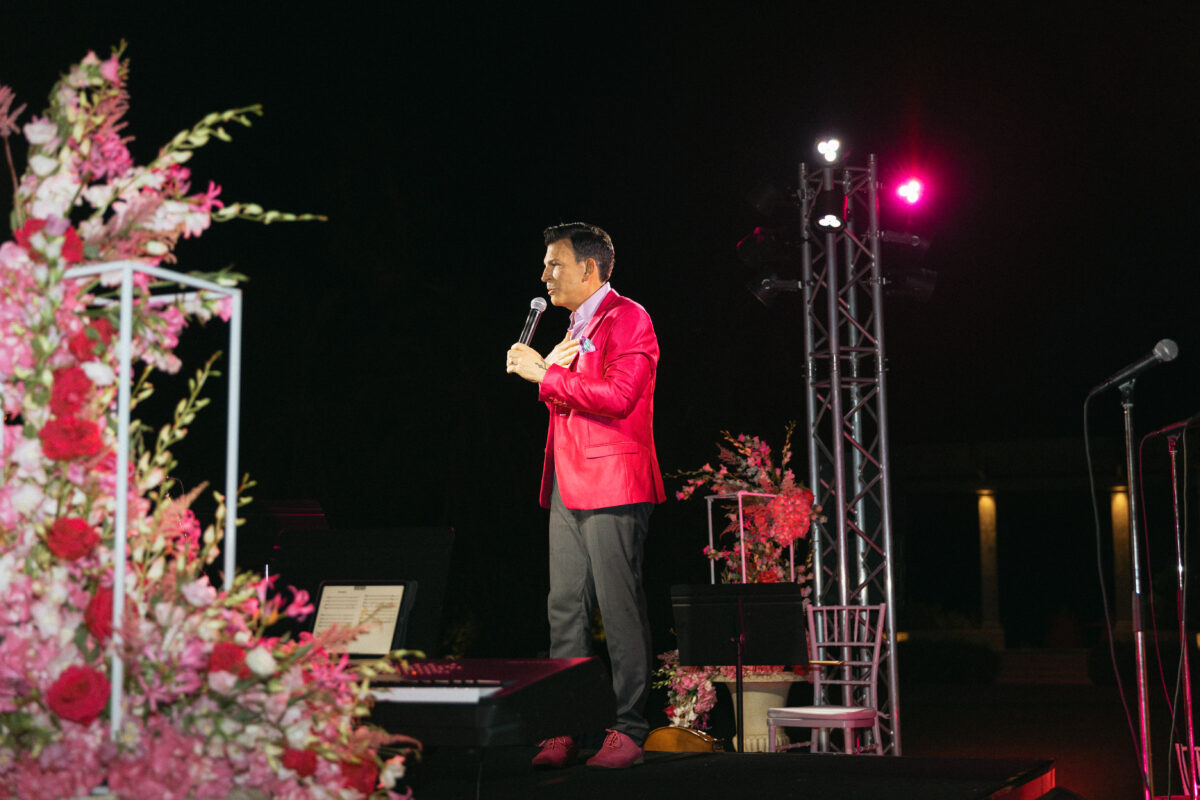 Modern Madness
For the closing evening Gala, the indoor space was transformed into an elegant black and white affair. The modern madness theme was filled with floral arrangements that took on a monochromatic palette. The floral arrangemtnts featured the mysterious Black Hippy Psychedelic roses by Jet Fresh Flower Growers. The designers used the velvety allure of dark purple black bean tulips as well as other painted flowers and foliage. The event reached a crescendo with a soul-stirring performance by the world-renowned violinist, Miri Ben Ari. She won a Grammy Award for Best Rap Song in 2005 as one of the co-writers of Kanye West's "Jesus Walks"
"The DTE is an intimate experience focused on education, positive self and business growth. Strangers arrive and leave with lifelong friends and people they can trust to help them in the future. David has a magical way of connecting people and making sure everyone is included. He makes sure no one is left out and really takes the time to help you and your business grow. At night he transformed the beautiful Ritz Caymen into an even more beautiful place. With amazing flowers, beautifully adorned tables, entertainment and a meal you would kill for. Defentiely an experience you will want to mark on your calendar for next time." – Fernando Ortega, General Manager & Sales Captain at Jet Fresh Flower Distributors.

David Tutera & Fernando Ortega of Jet Fresh Flowers
DTE Creative Partner List: