We are thrilled to present our Jet Fresh Flower Growers Stop Motion Film. The talented team of Dayoco Studio & Achu!Studio in Ecuador have poured their creativity and love for our farm into a remarkable stop motion video. This captivating creation is a homage to the heart of our Jet Fresh Flower Growers operations and we would love to share the behind the scenes.  
A little Behind the Scenes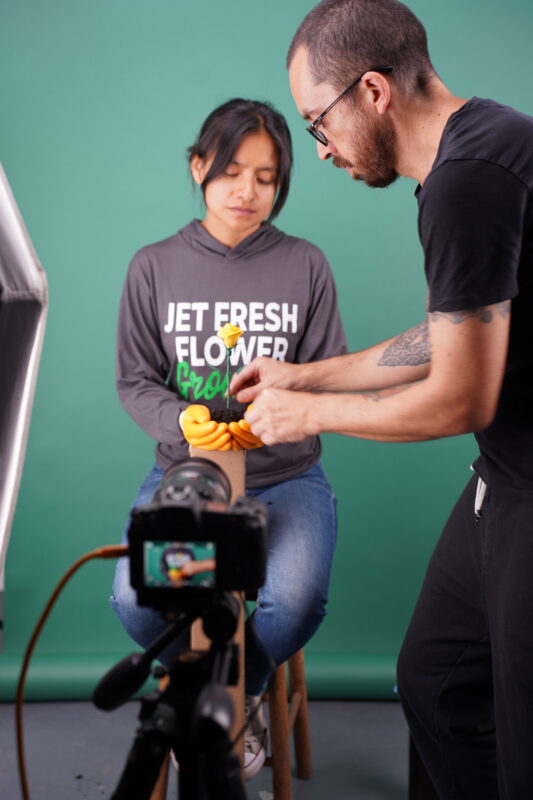 Jet Fresh Flowers has always celebrated and supported local Ecuadorian artist.  Recently we worked with the talented team from Dayoco Estudio & Achu!Studio, both based in Ecuador.  They are dedicated to honoring the value of handmade techniques combined with digital ones to create outstanding visual stories.  In one week they cut and produced an entire mini Jet Fresh Growers world.  
What makes this project truly extraordinary is that nearly every element you see on screen, from blades of grass, farm structure and animals were crafted from recycled materials and paper. The team searched our post-harvest area, giving a new life to the boxes, plastic and other materials that would have otherwise been discarded.
"We take great pride in supporting local Ecuadorian artists, as our farm thrives with an abundance of artistic talent. With so much Ai going around, hand-made and traditional arts are more important and impressive than ever! We are immensely proud of our team and the beautiful collaboration with Dayoco & Achu!studio."  – Ryan Black, Marketing Director.
The scenes in the video are expertly scaled down to highlight the essence of Jet Fresh Growers. They showcase the important areas of our farm, telling the story of our Non-Stop service with exquisite detail. From the hand painting of our Hippy Psychedelic Roses to the unique packaging, every aspect is carefully recreated in miniature form.
Jet Fresh Growers, home of Non-Stop Service, isn't just a catchy slogan—it's a promise we hold dear. This stop motion video not only pays tribute to our farm but also shows our dedication to delivering the freshest, highest quality flowers to our customers, all around the world. Stop motion filming, like growing roses, requires meticulous attention to detail and patience to cultivate a beautiful end result.
Stay tuned to our social media where you can watch the entire video and share your thoughts.  Thank you to Emi Coloma, Esteban Veloz and the entire team at Dayoco Estudio & Daniela Hurtado from Achustudio.