Jet Fresh Flower Distributors proudly presents a new episode of JFTV featuring a special presentation of Israeli-grown flowers.
Join Mike as he unboxes 7 fresh products straight from the farms in Israel including Lisianthus, Cirsium, Tweedia, Veronica, Phlox, Raffines Dianthus and Larkspur. These flowers and more are available for wholesale and special events from Jet Fresh Flower Distributors located in Miami, FL. Check it out!
JFTV: Israeli-Grown Flowers Spotlight with Mike
About the Farms
Many of these Israeli flower farms are small family growers that are supported by the Ministry of Agriculture to improve farming conditions, including the sanitary process.
According to the Ministry of Agriculture and Rural Development, "the Agricultural Research Administration engages in the development of disease- and pest-resistant strains and modern storage methods suitable for agricultural exports. The Plant Protection and Control Division is also responsible for preventing future blights, or plant disease, by monitoring imports and quarantining plants, as well as issuing health certificates for agricultural exports."
Did you see any flowers that you like? Let's take a closer look at the Israeli-grown flowers arriving bi-weekly at Jet Fresh Flower Distributors.
Jumbo Lisianthus
Israeli-grown Jumbo Lisianthus come in a range of solid and bi-color varieties measuring 70cm long, as well as Jumbo Double Eliza Lisianthus at 80cm. Check them out!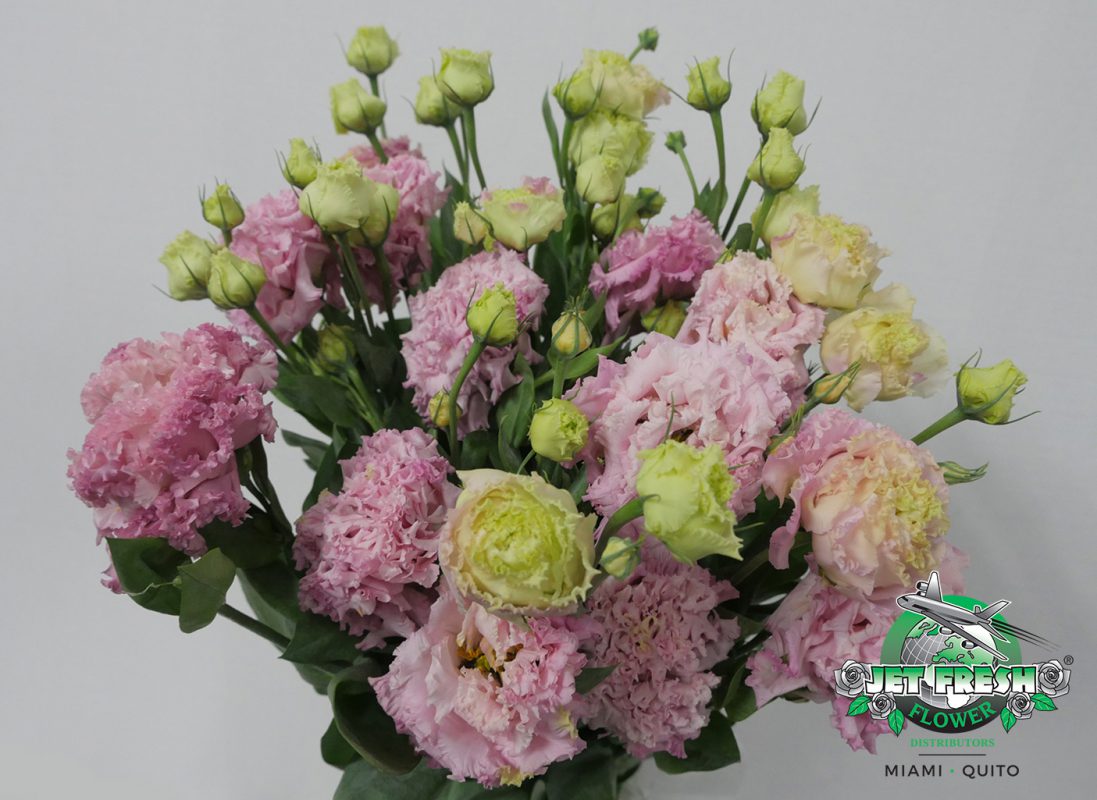 Cirsium
Israeli-grown Cirsium, also known as a thistle, is unique filler flower available in Pink and Purple/Lavender measuring 70cm long.
Tweedia
Israeli-grown Tweedia is such a lovely flower with petite petals that are available in Blue and White measuring 50cm long.
Veronica
Israeli-grown Veronica, also called Speedwell, is a long-spiked filler flower with tiny clusters of flowers available in Pink, White or Purple measuring 70cm long.
Phlox
Israeli-grown Phlox is another whimsical flower variety with star-shaped petals that will continue to bloom in use. Available in Blue, Pink and White, these flowers measure 70cm long.
Raffines Dianthus
Israeli-grown Raffines Dianthus is a beautiful series of novelty Dianthus that come in both standard 50cm and petite varieties. The colors in this series are complementary and perfectly event-friendly. Ask your sales rep about any of these varieties today!
For information and pricing on our Israeli-grown flowers and more, please contact Sales@JetFreshFlowers.com.
For global-trading, farm-direct and international ordering, please contact SalesGlobal1@JetFreshFlowers.com.