Father's Day may not be your typical floral holiday;  that doesn't mean they don't like receiving them. Jet Fresh Cash and Carry manager, Olga Ramirez, AIFD, CFD thought outside the vase and designed a fun Father's Day arrangement perfect for any grill master using a miniature BBQ grill as her vessel. This Fresh Inspiration features a lovely assortment of flowers from Jet Fresh Flower Distributors and accessorized with the right grilling tools.
Jet Fresh Flowers
This BBQ grill floral arrangement features a light assortment of fresh-cut flowers from Jet Fresh Flower Distributors designed with Oasis flower foam. The fresh color palette is natural mixture of white, green, yellow and blue flowers to create a light and subtly masculine floral arrangement for Father's Day.
Flowers and fillers used in this Father's Day arrangement include:
Green "Jungle Trail" Cymbidiums
Blue "Beau Dali" Hydrangea
White Mount Everest Allium
White Raffines Dianthus
Green Trick Dianthus
"Snow on the Mountain" Variegated Euphorbia
Yellow Craspedia Balls
Wild Scabiosa Pods
Crispy Wave
Red Pineapples
Green Smilax
Dried Kiwi Branches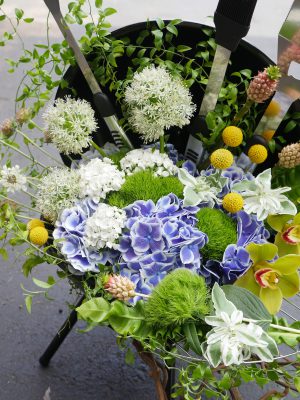 In case Dad's hungry, Olga even created her own floral shish kabob using Red Pineapple sticks attached with Green Trick Dianthus and "Snow on the Mountain" Euphorbia lying flat on a bed of Crispy Wave. It honestly sounds delicious.
Altogether, Olga designed a sophisticated floral arrangement with just the right hint of playfulness for Dad. These blue "Beau Dali" Hydrangeas are the real scene stealers with a rich shade of blue that's absolutely perfect for Father's Day. We're big fans of this variety and love how well they coordinate in this color scheme fresh inspiration.
HOw To Order
Jet Fresh Flower Distributors supplies fresh-cut and preserved flowers to members of the floral trade including wholesalers, florists, event planners, retailers and more. Create an account with us to learn about pricing and availability. Contact us today at Sales@JetFreshFlowers.com or (305) 499-9144.
On behalf of the team Jet Fresh Flowers family, we wish everyone a very Happy Father's Day!