It's been almost three years since Jet Fresh became rose growers back in March 2018. And in the short time, our boutique farm, Jet Fresh Flower Growers, S.A. has made great achivements in developing quality Ecuadorian roses that are socially and environmentally conscious.
Shortly after our first year as a young rose farm, we proudly earned the Flor Ecuador Certification; ensuring compliance in many areas including employee's rights, benefits, safety and their health. This certification is highly focused on reducing Ecuador's floriculture environmental impact, and controlling and reducing the use of pesticides and other chemicals. Click to read the article.
Our 14-hectare rose farm features many new improvements and we're still expanding. At this time we have over 8 hectares of roses growing inside 12 greenhouses, and our last three empty hectares of land have new greenhouses currently under construction. We're adding hundreds of thousands new plants and new varieties for 2022.
We've also installed a new cooler inside our post-harvest; a state-of-the-art irrigation system; new locker rooms and lavatories; and a new Hippy Psychedelic Art Studio.
Join Juanita in Cotopaxi, Ecuador as we present the 2021 Jet Fresh Flower Growers' Farm Showreel. We invite you to see these fresh updates, and meet our dedicated team we call family. See all the love and care that goes into producing our roses.
Jet Fresh Flower Growers proudly supplies roses to wholesalers and event planners all over the world. Our boutique farm located almost 2,900 meters above sea level has a growing roster of 40+ varieties plus our line of Hippy Psychedelic Roses.
Jet Fresh grows roses with a wholesaler's mindset. Focusing on quality and freshness, we have set a standard for how our roses are grown and packed.
No Pinching
For starters, Jet Fresh Flower Growers is a non-pinching farm. Unlike other rose farms that pinch for the holidays, we don't. Instead, we maintain the quality of our plants and provide consistent quality year-round.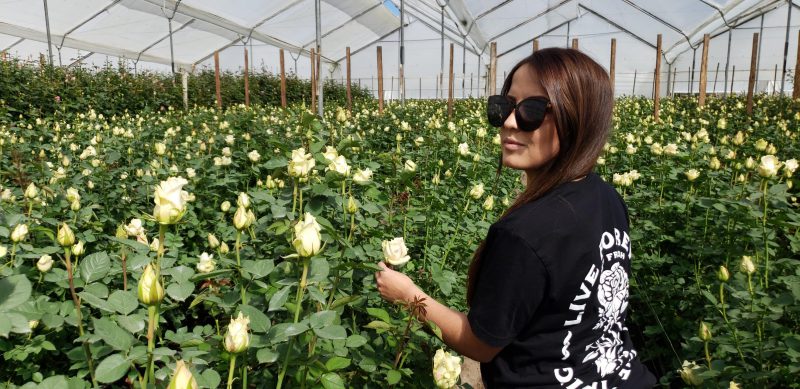 No Rotation
Jet Fresh is all about the freshness. You can order with confidence knowing that roses from our farm are freshly harvested and not shipped on rotation or stored in our coolers.
BREATHABLE BOX SIZES
Ecuadorian roses are known for having large heads. Jet Fresh Flower Growers offers breathable boxes in various sizes that won't squeeze and damage your roses during transit.
FloraLife Ethylene Paper
Jet Fresh Flower Growers also ships roses packed with FLORALIFE® Ethylene Paper. This special product absorbs moisture inside the box and keeps your roses staying fresh during transit.
Custom Packaging
Custom rose packing is available upon request. Whether you need special rose mixes, or would like your roses packaged in different wraps, let Jet Fresh Flower Growers support your floral needs.
Enjoy Even MORE BENEFITS!
There's even more great benefits to buying from Jet Fresh.
To place an order from Miami, please contact Sales@JetFreshFlowers.com
To place an order directly from the farm, please contact Growers@JetFreshFlowers.com