Exploring Four Enchanting Wedding Styles
Love is in the air, and wedding season has arrived! It's a time of celebration, joy, and the creation of beautiful memories. At Jet Fresh Flowers, we believe that every couple deserves their dream wedding, tailored to their unique style and personality. To showcase the diversity of wedding styles, we partnered with talented bridal vendors to bring you four extraordinary themes: Vintage, Traditional, Rock, and Festival of Colors. Our very own photographer, Emilia Coloma, captured the essence of each style with her artistic flair. Join us on this journey as we immerse ourselves in the magic of love and creativity.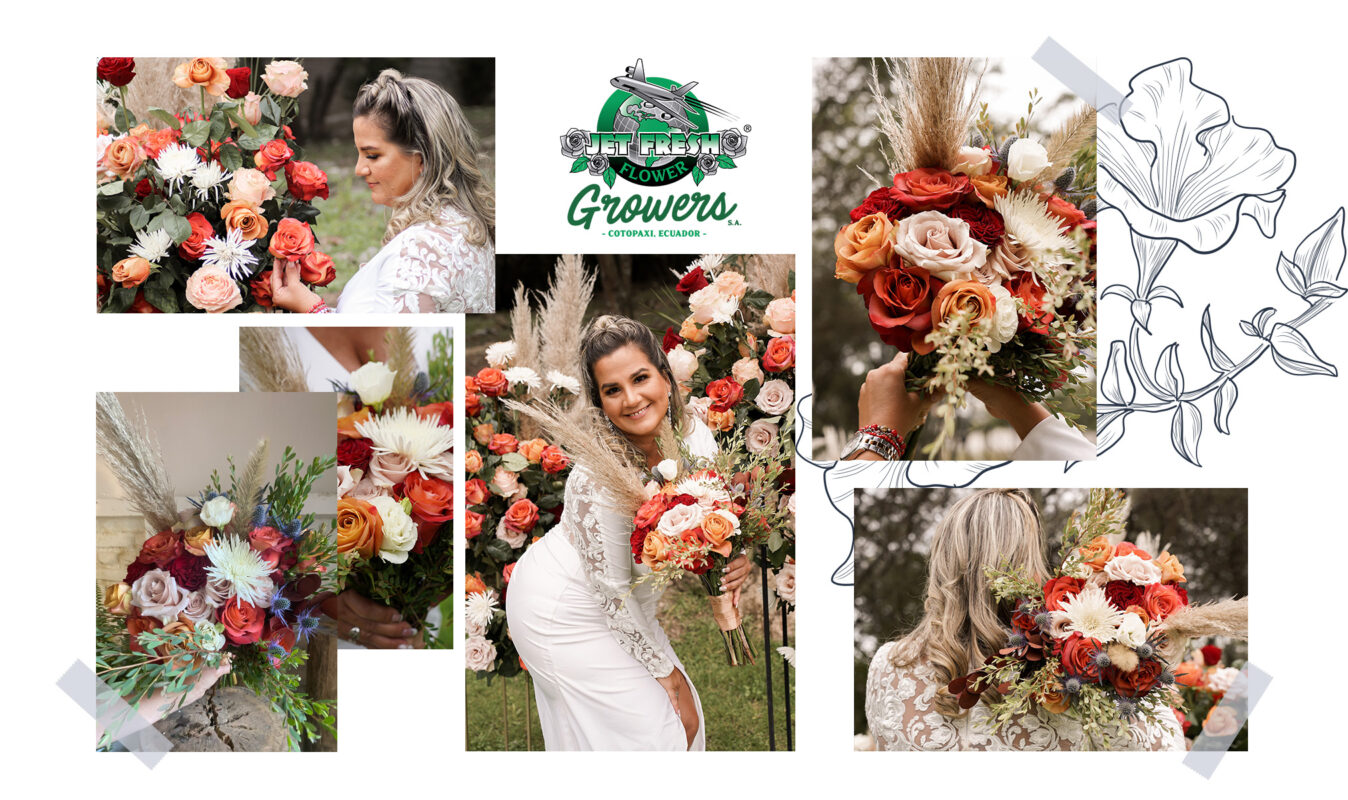 Vintage: Timeless Elegance
The Vintage style transports us back in time to an era of refined elegance and classic charm. With a contrast of soft hues to the deep red and orange palette, every detail captures the essence of an era before. The venue was adorned with antique decor, while the bride donned a stunning long-sleeved lace gown that accentuated her timeless beauty. Emilia's expertise in capturing the ethereal atmosphere added a touch of magic to the photographs, making them truly unforgettable. The bouquet and arrangements featured some classic varieties like Quicksand, Coffee Break, and Hearts along with our new variety Symbol by Plantec. This elegant rose has a unique copper tone that transformed all the arrangements into a masterpiece.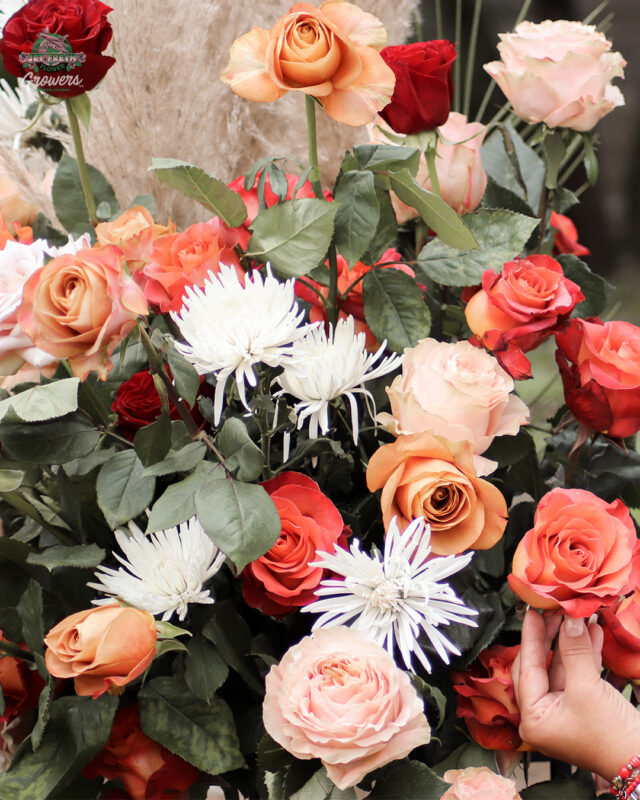 ---
Traditional: A new way to keep it Classic
In this wedding style, we celebrated the beauty of traditions that have stood the test of time. The brides wore classic wedding attire, exuding grace and elegance. The flowers included soft tones of roses like Sweet 4 Love, Vendela, and Princess Crown.  These varieties of roses have such big bud sizes that the floral designer only needed to use a few of each to create an impactful bouquet.  Sweet 4 Love is a sturdy and fragrant pink rose bred by Dummen Orange and new to our farm.  
---
Rock: An Edgy Affair
For couples seeking a wedding style that breaks the mold, the Rock theme offered an edgy and rebellious twist. With a bold color palette, leather accents, and a non-traditional venue, this wedding style pushed boundaries and celebrated individuality. The couple's rebellious spirit and raw energy highlighted with contrasting roses like Giant Peach and Chocolate Hippy. Our Hippy Psychedelic Roses are perfect for brides looking to stand out and are searching for a unique bouquet.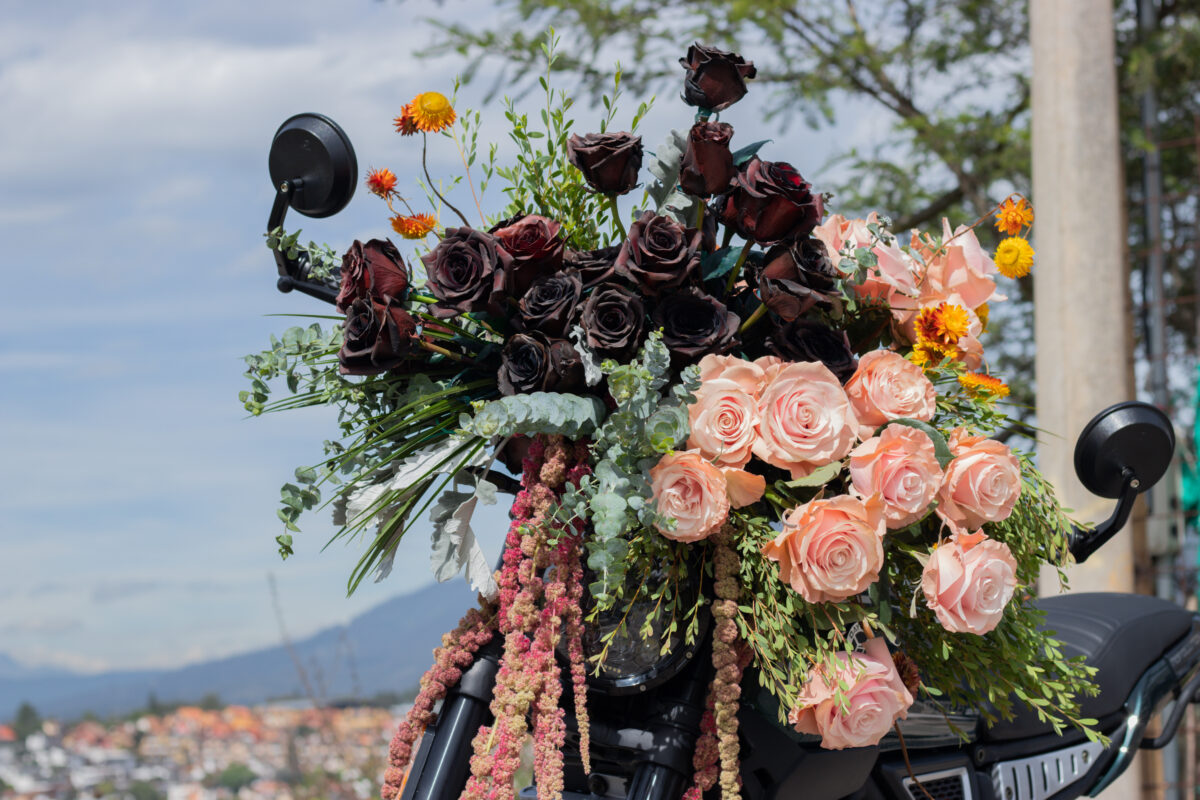 ---
Festival of Colors: A Vibrant Extravaganza
For those who believe in embracing life's vibrant hues, the Festival of Colors theme offered a feast for the senses. We transformed the venue into a kaleidoscope of colors, with vivid flower arrangements, and joyful decor. The couple and their guests adorned themselves with bright attire and celebrated their union with bursts of colorful powder. All the roses in this style were Hippy Psychedelic Roses, including Frozen Kalara, Frozen Cotton Candy, Frozen light pink, and frozen pink. Color-enhanced flowers are continuing to push boundaries within the flower industry, giving designers a fun floral medium to work with. 
We hope that this exploration of diverse wedding styles has inspired you to embrace all dream weddings. Love is Love and should always be celebrated.   Happy Wedding Season!
Thank you to our models and partners:
Floral Arrangements by Nomad Flowers
Make up by Vialery Ayala and Anahí Ordóñez
Wedding dresses by Alma Studio Novias Contact: Maria José Larrea